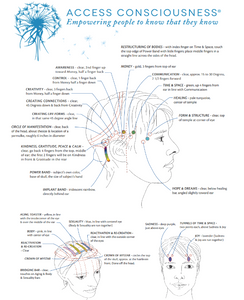 Access Bars®
Elirmont
Regular price €60,00 Sale
The Access Bars® is a set of 32 points on the head which, when lightly touched, stimulates positive change in the brain and defragment the electromagnet components of stress, thought and emotions. This gentle, non-invasive technique works on releasing both physical and mental blocks stored in the body and helps facilitate greater ease in all different areas of life. A session of Access Bars® can help with the following:
Greater Mental Clarity
Motivation
Significant Increase in Joy and Happiness 
Deeper Relaxation 
Insomnia 
Anxiety and Depression
Health and Weight Management
Stress and Overwhelm
Migraines
Panic Attack
OCD
Access Bars® will guide you to find the infinite of your true self. It will help you to create a life beyond the path you can see. It will break your limitations.
"We are infinite beings all things are possible"
 I advise against users of Holistic Therapies to partially or totally discontinue any medical or psychological treatments they are undergoing. Your doctors and/or health care providers should continue to monitor your health and recommend any changes in your treatment.