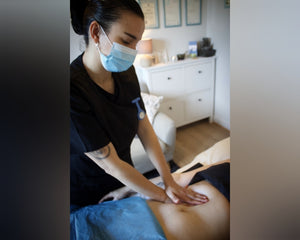 Women's Health - Heavenly Massage
Elirmont
Regular price €90,00 Sale
Garshana Dry body brush & aromatherapy massage - Reiki Energy Healing
I'd like to introduce  "Heavenly Massage''. This is my unique signature massage that combines bodywork muscle tension release with lymphatic massage.
It starts with a Garshana dry body brush, followed by aromatherapy massage, and to seal this beautiful treatment, Reiki energy healing*
Garshana dry body brush is a technique used in ancient Ayurveda medicine, with many Lymphatic benefits. 
Dry Body brush & aromatherapy massage benefits:

Reduction of cellulite appearance 

Stimulate cell renewal through gentle exfoliation 

Pore unclogging for better absorption of creams and oils 

Stress relief and muscle tension reduction

Stimulate the lymphatic system

Increasing the elimination of toxins

Increased circulation, resulting in more energy 

Increased skin freshness 

Helps reduce fluid retention  

Helps in intestinal transit

Improves body contouring 

Air cushioned base provides a comfortable and deeper massage
Can it get any better? 
Yes it can! with a mini Reiki session to seal with light & love
Your energy levels are so important to maintaining a healthy  body and mind. As a Reiki master, I want to make sure that all my clients are receiving their treatment on a spiritual level. In this heavenly massage session, I will bring Reiki energy healing, to balance your chakras and seal your aura with light, love and protection. 
*This is not one hour Reiki session
My new heavenly signature  massage therapy treats Body, Mind and Soul. 
Please save 90 minutes for this treatment. 
Essential oils are part of this treatment (optional)

Crystals are used during Reiki

Note that it is not a deep tissue massage.
All treatments are empowered with the blessed Reiki Energy Healing
I advise against users of Holistic Therapies to partially or totally discontinue any medical or psychological treatments they are undergoing. Your doctors and/or health care providers should continue to monitor your health and recommend any changes in your treatment.